The moral of the story is that strategic positioning can be a huge predictor of business success. And it's not just about location. The unique combination of what, where, why and how you sell sends out subtle signals to the market. Skillfully leveraged, they have the power to put you in the right place at the right time for the right reasons.
This makes positioning an important ingredient in the recipe for success. It's one of the most lucrative investments savvy business leaders can make.
So, whilst most of your competitors are likely asleep at the wheel, take advantage! The rewards are plentiful!
Take a leaf out of the big brand playbook
People often think that brand positioning is an exercise reserved for enterprise-level multinationals, but that simply isn't the case. It's essential for every business, no matter the size.
There are huge benefits for SMEs when they apply it effectively, to the extent that they can themselves reach the enterprise level. Just ask Qualratics, the upstart that took on Survey Monkey (and won).
Rather than relying on the social growth loops of their competitor, they built a professional services division and used an inside sales team to position themselves as an experience management platform for the C-Suite.
It was a wildly different take to the market leader's Product-Led Growth (PLG) approach to selling survey software. And it worked extremely well. So well that many other SAAS companies took note and have adopted the same playbook. Moving upmarket, layering in enterprise-level consulting and following a Product-Led Sales approach is fast becoming the de-facto standard.
Expert advice overcomes traditional hurdles
Many service providers struggle to make a significant impact with their positioning strategies, often hindered by generalised statements, poor timing, inconsistent implementation, or a lack of support from key stakeholders.
To enhance the effectiveness of their go-to-market decisions, activities, and messaging, it's necessary to adopt a reliable positioning model. Luckily, in the information age, there is a bounty of knowledge in the public domain about how to position brands and products.
It's not regurgitated AI nonsense either. This is top-shelf advice from the world's greatest positioning experts, ready for the taking. A lot of it is free, or ridiculously cheap considering the expertise delivering it.
Just be aware that the rabbit hole goes deep! We recommend starting your journey with the following.
Positioning a service business doesn't have to be difficult
Positioning a service business need not be an arduous task, especially when harnessing freely available, high-quality frameworks. These positioning frameworks serve as invaluable tools to guide businesses in shaping their identity and market presence.
Startegyzer's Value Proposition Canvas, for instance, enables companies to discern customer needs and align services accordingly. For example, a digital transformation agency can utilise this framework to pinpoint the pain points of its target audience, allowing it to tailor services more precisely. By incorporating such frameworks, businesses can strategically position themselves with a clearer understanding of their Unique Selling Proposition (USP).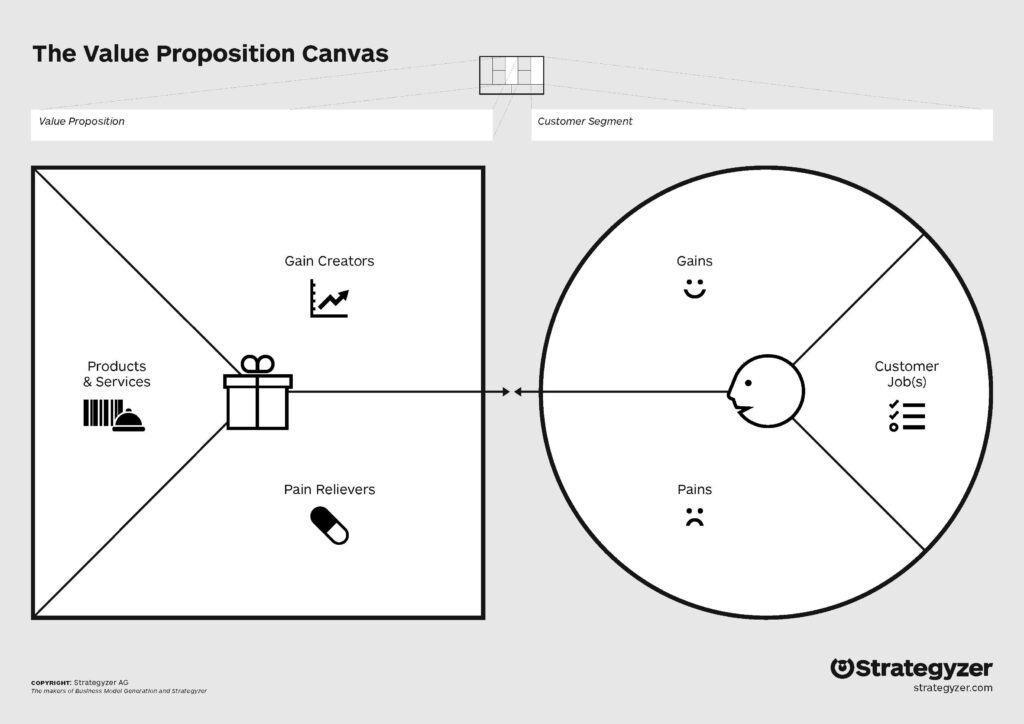 An agile approach further simplifies the positioning process by emphasising flexibility and responsiveness. Adopting a Minimum Viable Positioning (MVP) strategy ensures that changes are implemented incrementally, minimising the risk of major disruptions.
For example, a software-as-a-service startup could launch an MVP of its offering to enterprise-level clients, gathering feedback and fine-tuning positioning before a full-scale rollout. Iterative testing and feedback become integral to this agile strategy, facilitating adjustments based on real-time market responses, and ensuring the business remains adaptive and customer-centric.
Implementing changes progressively rather than all at once is another key aspect of a pragmatic positioning strategy. By taking a step-by-step approach, businesses can manage the transition smoothly, minimising the impact on existing operations.
For instance, an interior design agency looking to reposition itself can start by updating its online presence and gradually extend changes to client communications and marketing collateral. This phased implementation allows both internal teams and external stakeholders to acclimate to the evolving brand identity, fostering a more seamless transition.
In conclusion, the synergy of freely available frameworks, an agile mindset, and a progressive implementation approach can transform the seemingly complex task of positioning a service business into a manageable and efficient process. By leveraging these tools and methodologies, businesses can navigate the dynamic market landscape with confidence, adapt to emerging trends, and continuously refine their positioning for sustained success.
Your mum was right, it pays to be different
Unlike SAAS companies that can innovate and quickly build new features in response to user needs, the problem faced by consultants and professional service providers is that fundamentally, they all sell the same thing as their competitors.
With a level playing field, you need to find an edge to stand out.
Doing so affords many advantages, such as zeroing in on a niche and becoming a unique choice, instead of simply 'one of many'.
Consider which of the following is more appealing to a particular buyer:
Fit-outs for retail stores
Fit-outs for shoe stores
Fit-outs for shoe stores in Melbourne CBD
Fit-outs for sports shoe stores in Melbourne CBD
Sure your TAM (Total Addressable Market) just went down, but so did your competitors. Such is the power of a good USP!
| | |
| --- | --- |
| RED-OCEAN STRATEGY | BLUE-OCEAN-STRATEGY |
| Compete in existing markets | Occupy uncontested market space |
| Beat the competition | Make the competition irrelevant |
| Exploit existing demand | Create and capture new demand |
Blue Ocean Strategy, by W. Chan Kim and Renée Mauborgne, encourages businesses to create new market space rather than competing in a crowded market.
Tap out of the commodities race
Thoughtfully packaged and 'productised' services are another lever that can and should be pulled by B2B service companies.
A standalone bare-bones service is a mere commodity that backs your prospects into a corner. The only way for them to make a purchase decision is based on price. And it does your business and sales team a huge disservice by entering it into a race to the bottom.
In simple terms, discounts mean you haven't refined your positioning.
But, selling outcomes using combinations of services designed to fulfil your ICP's needs, differentiates your professional service business from the pack.
And that, in turn, becomes a pricing enablement strategy. Because now you can sell based on value and stop competing on cost. Positioning your business at a premium sends signals to the market — you know your stuff and you do it well.
The result? More ICPs, fewer tire kickers. Win!
Strategic positioning is the powerhouse for impactful GTM activities
With the aid of a solid framework, lots of fuzzy inputs can be combined and moulded into a set of well-defined statements, but where to from there?
Positioning refers to how a brand or (productised) service is perceived by clients and prospects compared to other competitors within a specific market segment. That perception is driven by the senses, which shape cognition and drive action in the world. In other words, it influences every piece of communication and media your business creates.
People will happily pay more for perceived value
What makes a luxury good a luxury? Why is Gucci able to charge a fortune for an item of clothing that costs no more to produce than equivalent items from a bargain basement retailer?
It's down to shaping perceptions of the market using clever positioning. Here are a couple of examples to prove the point.
From bargain basement to top-shelf luxury
In an extremely clever marketing and PR stunt orchestrated by DCX Growth Accelerator, Payless ShoeSource, a discount shoe retailer, set up shop in a former Armani store as the luxury Italian brand 'Palessi'.
Whilst their shoes were always designed to look stylish, they would typically sell for less than $50. But the influencers invited to the opening party didn't know this. After being exposed to a variety of social and environmental signals, the shoppers thought they were acquiring high-end footwear.
Rather than being influenced by the intrinsic qualities of the product, they were compelled by the luxury positioning of the 'Palessi' brand and happy to spend over $600 in one instance. According to McKinsey, 76% of consumers interact with brands or products before stepping into a store, emphasising the importance of online and digital competitive positioning.
Putting the obvious PR benefits aside, this is a great example of how intentional positioning can shape perception and its downstream effects.
Some pretty sweet positioning
How much would you pay for a pack of 12 cookies? For some people, the answer is $140. This is a true story!

Meet Last Crumb, the cookie brand from LA that charges $12 per cookie and has transcended beyond selling a 'crumby' product by positioning itself as a stand-out, luxury choice for the discerning sweet tooth.
This is how they can pull off what seems like an audacious achievement.
Packaging: The founders invested heavily into delivering an Apple-level unboxing experience. This helped shape perceptions and caused a viral loop through social media sharing.
Product Naming: Individual cookies are cleverly branded with names like Better than S*x and The Floor is Lava.
Purchase Experience: Reduction of buyer's remorse and building confirmation bias with post-purchase emails delivering origin stories that build anticipation.
Exclusivity: Limited production runs that incite FOMO and feed the perceived value through scarcity.
Positioning is non-negotiable (if you want to succeed)
Strategic positioning stands as a pivotal factor in the success of B2B service companies, offering a significantly higher likelihood of growth for those with a well-defined strategy.
This universal principle applies across business scales, enabling smaller companies to compete at (and rise to) an enterprise level through effective positioning.
Accessing expert guidance and utilising mature frameworks simplifies the process, overcoming common challenges service providers face. By strategically differentiating from competitors and adopting an agile mindset, businesses can clearly navigate the complexities of positioning.
In practice, avoiding commoditisation involves finding a niche and presenting thoughtfully packaged services, allowing service businesses to compete based on value rather than price.
A concerted effort to position appropriately empowers businesses to shape how their brand is perceived in the market, influencing every aspect of communication. Finally, clever positioning allows businesses to charge premium prices by shaping consumer perceptions, with real-world examples presented herein illustrating the impact of intentional positioning on pricing strategies and market success.
As we hope you've figured out, fail to try and you're consigned swimming in the sea of sameness, but crack the code and you'll have a significant advantage.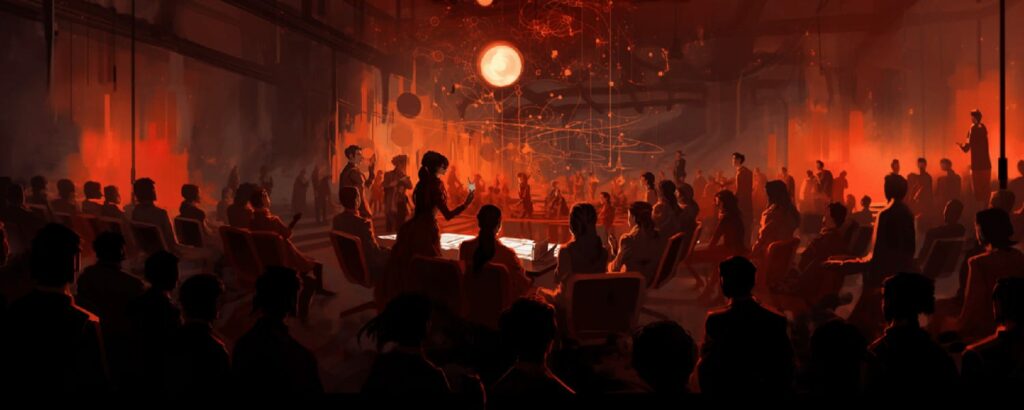 At Fluidic we run positioning workshops for growth-minded professional service providers and consultancies keen to challenge the status quo and gain an outside perspective.
If that's you, muster up the courage to contact us for an uncomfortably high-pressure sales conversation. Only kidding! Our goal is to provide help and guidance. So even if the sparks don't fly, we'll be happy to point you in the right direction.